Visitor maps
David Mitchell suggests that including a map widget to show visitor numbers and locations on a world map is a powerful way of motivating children, as they can see that their posts are being read around the world.
Revolver Maps
Flag Counter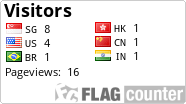 Adding a visitor map to J2Webby guide
Video summary David always includes a map widget on his blogs, which children see as their 'customer base'. He also uses Flag Counter to show visitor numbers from different countries. He sees these widgets as hooks to engage children in increasing blog visitor numbers. Annie used a competition to see who could get the most visitors or those from furthest away. Jim describes the popularity of the map and how children respond to it as the number of dots grow.
It's a really visual way for the children to see that they've got an audience outside of their classroomDavid Mitchell